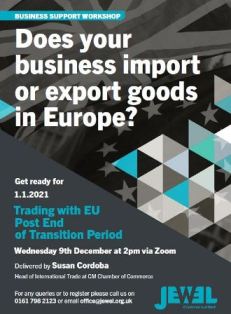 The Jewel Foundation held a high level workshop for businesses which import and export to Europe.
Presented via zoom by the Head of International Trade of the Greater Manchester Chamber of Commerce the 1-hour session covered a wide range of topics including registration with the relevant authorities in both the UK and Europe, shipping requirements and the steps companies need to put in place to ensure they comply with the regulations.
With so much uncertainty about Brexit this workshop was welcomed by so many businesses especially those who trade online.
Participants joined from across the UK with a number of businesses networking and sharing ideas at the end of the session.
Simon Rose from Easy Gift Trading commented how much he appreciated Jewel arranging this session and how the presentation, given with such clarity and providing so much information, gave him the confidence that his business will manage with the new regulations.                                 
Jewel worked closely with the Chamber of Commerce before the session, to ensure they understood the issues that local businesses are facing, and they are looking forward to continue working in partnership with the Chamber to support local businesses.
The Jewel Foundation which provides employment, training and business support to the Manchester Community and beyond has held a number of events in recent months including a recruitment information session with Greater Manchester Police, and is currently supporting close to 150 residents with online training. They are also holding a "Job Searching in a Virtual World" workshop to help their job seekers and are also planning a series of business support events in the coming months.
 Any business which imports and exports to Europe is welcome to request the presentation by emailing [email protected].